Top 10 Hands-down Greatest of All Time Old-School WWE Wrestling Gimmicks
Preface
Firstly, wrestling AKA "sports entertainment" is a cult sport. A sport that other sports look down on because they don't view it as a "real sport." Nor do they view wrestlers as real athletes. Indeed, it's one that many of us watched as children. When I say "old school" I don't mean the Hulk Hogan days. But, I mean the Ruthless Aggression Era (c. 2002-2008). Nonetheless, wrestling is a real high impact sport. Wrestlers stay on the road 365 days a year and put their bodies on the line just as much as other athletes. If not, more. From what I'm told, today's WWE in the PG era is trash. Flat characters, little-to-no suspension of disbelief, and no fresh talent.
Nevertheless, the dramatic antics, mat-slapping moves, and crazy storylines had us hooked! So, without further ado here are the top 10 gimmicks. In no order of importance.
1. King Booker
"5-time, 5-time, 5-time, 5-time, 5-time world champion!" ¨All hail King Booker!¨ Queen Sharmell would shout ad nauseum. Booker T with the help of his wife Sharmell made history with this giimmick. In an interview he explained the gimmick began from his constant referring to his wife as "queen." Apparently, one of the writers overheard it once and ran with it. It began following his King of the Ring win. He spoke with a British accent and sold the character like no one's business.
Furthermore, Hall-of-Famer Booker T Huffman's story is inspiring. As a young orphan, he was arrested for robbing a string of Wendy's restaurants. Since he worked at Wendy's he knew the layout of the restaurants. But he turned his life around to become one of the best African-American wrestlers ever. In recent years, he's flirted with the idea of running for mayor of Houston. We'll see if that dream ever materializes.
2. Jazz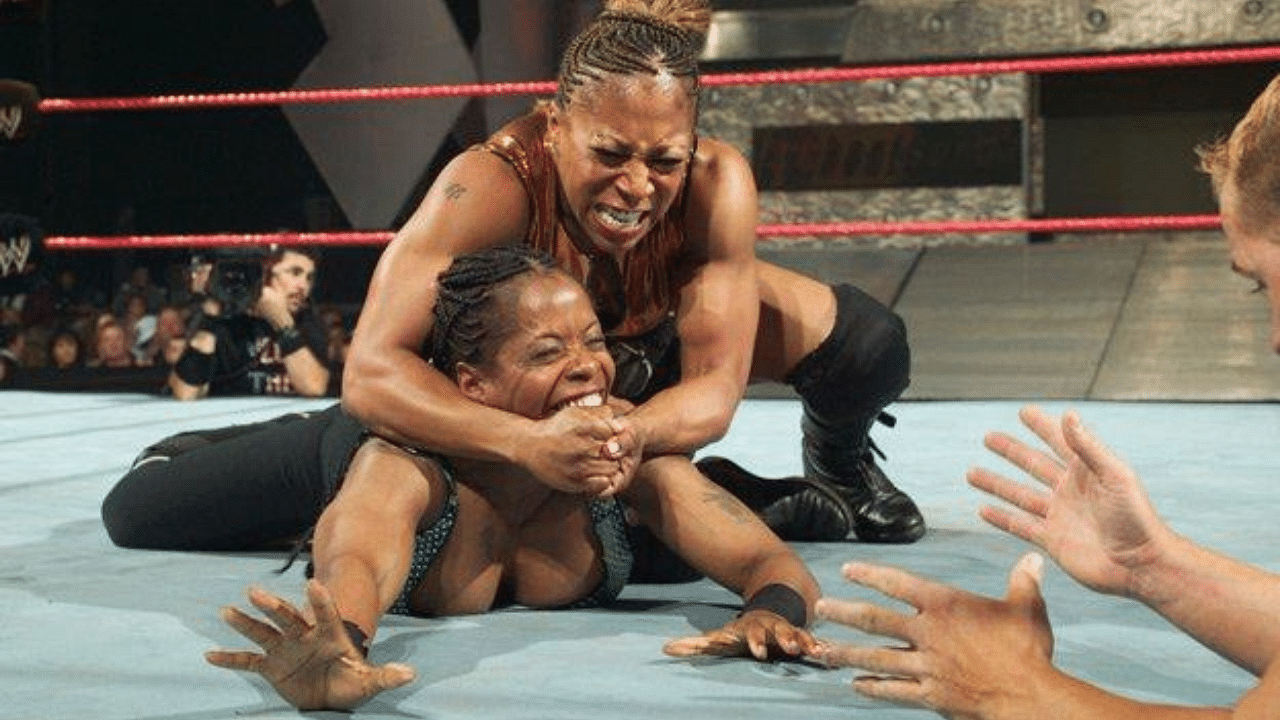 ECW-bred Jazz, the "female fighting phenom." AKA "The Baddest Bitch." Last WWF Women's Champion and first WWE Women's Champion. Managed by Teddy Long in the stable "Thuggin' and Buggin'." She was known for her buff physique and trash talk during matches. In the above photo she is seen putting Jacqueline in a STF submission hold (Jacqueline is a woman who actually inspired her to get into wrestling). Clearly, there weren't many Black women wrestlers in the industry. As a result, WWE didn't know how to market her and she was eventually released circa 2004. She has her own wrestling school in Texas with husband Rodney Mack and Thunderosa. She is currently on a retirement tour.
3. (WWE's best) The Undertaker
The world first came to know Undertaker at Survivor Series 1990. An immortal western mortician with magical superpowers to turn lights on and take people's souls. There were several gimmicks within in this one gimmick. From Texas Red to the Deadman, to American Bad-Ass, then Deadman again. His 21-0 WrestleMania victory streak was unprecedented (broken by Brock Lesnar).
Apparently, he was a real locker room leader and had much pull. Until recently, he maintained "kayfabe" and never did interviews. But earlier this year he did one on Joe Rogan's podcast. In the interview he calls today's product "soft." His thirty year career spanned from 1990-2020.
4. Kane
Hall-of-Famer Kane AKA "The Big Red Machine" was known for his stoic, quiet presence. No doubt, his immense power and strength made him stand out though. Actually, he was the storyline brother of Undertaker who killed their parents in a fire. Hands-down, he is the master of the chokeslam. These days, he does double duty. He's still signed to WWE and works as the Mayor of Knox County, Tennessee.
5. Dwayne "The Rock" Johnson
"The Most Electrifying Man in Sports Entertainment." Nowadays, The Rock is known as the highest paid actor in the world. Even watching old wrestling footage of his, it's no surprise why. The third-generation Samoan wrestler oozes charisma. Known for his catchphrases, zingers, and mic skills. His overselling Stone Cold Steve Austin's stunner was SO dramatic. I always like playing as The Rock on video games just to see the animation of the People's Elbow.
6. Stone Cold Steve Austin
"The Rattlesnake." A beer-chugging, no F's given maverick. The highlight of his matches would be seeing him walking down the ramp talking shit to himself. The only man who could get away with beating up his boss (Vince McMahon) on a regular. He'd open a can of whoop-ass faster than you can shout "ouch!" Stone Cold Steve Austin was actually the most marketable wrestler of all time. In fact, his Austin 3:16 shirts sold more than 12 million units!
7. Mick Foley/ Cactus Jack/Dude Love/ Mankind
So, here are the four faces of Foley. Dude Love was a hippie type all about spreading the love. Cactus Jack and Mankind aren't really explicable characters. Just know that Mankind and his stinky sock best friend "Socco" were a force to be reckoned with. His finisher, the "mandible claw" where he shoves it in his opponent's mouth was vicious. Undoubtedly, his eccentric alter egos were a sight to see!
8. Chyna
Truly, Joanie "Chyna" Laurer was a beast in the ring. Initially, she started as the bodyguard to real-life boyfriend Triple H in D-Generation X. Notably, she's one of the only women in WWE history able to go toe-to-toe with the men. Let alone, hold the Intercontinental Championship. WWE distanced themselves from Chyna after her drug problems and porn tape released. She passed away in April 2016. R.I.P. Chyna.
9. New Jack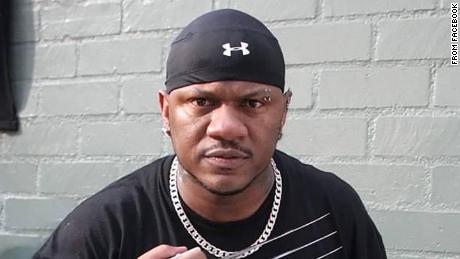 ECW's infamous New Jack. An ex bounty hunter, he was known for his hardcore style in the ring. Actaully, he even once tried to kill a man during a match, by throwing him off a 40 ft. high scaffold. There are interviews of his online with Hannibal and VladTV worth checking out! New Jack died of a heart attack a few months ago. However, his extreme legacy lives on.
10. The Godfather
The Godfather was a pimp who played the character to a tee. His notorious "hoe train" (a dancing line of scantily clad women) wouldn't fly today! Feminists and simps would protest to the hilt! According to an interview with wrestler Victoria (seen above in the orange), they would actually get real strippers from each city they traveled to to be one of the "Godfather hoes." His wife designed his pimp-style ring attire. Actually, in real life he owns a strip club in Las Vegas.
11. The Boogeyman (Honorable Mention)
The man ate real worms and banged a clock against his head. That´s it. That´s all. WWE could've done so much more with this gimmick.
12. Viscera (Honorable Mention)
AKA "The world's largest love-machine." The Viscera gimmick was the third gimmick Nelson Frazier tried during his run in the WWE. A character who wore Hugh Hefner type robes and constantly macked on the ladies. The gimmick was based on Frazier's Valentine's Day birthday. Nearly a quarter-ton of sheer power, his finishing move was called "Viscagra" where he dry-humps his opponent. Utterly outrageous! Big Vis could perform high-flying moves like spinning wheel kicks with ease. He actually passed away a few years ago but remains one of the best gimmicks to hit the scene.