NFL Season Recap: Business, Culture & Scandals
Tom Brady & Aaron Rodgers are good at football, the Chiefs are hot, AB left a team with controversy, & coaches are getting fired left & right. Seems like a normal NFL season heading into the playoffs, right? Wrong. This has been one of the sloppier seasons I can remember thus far in my lifetime. While ESPN, Bleacher Report & others will use all of their resources to recap what went down on the field in the NFL this season, I figured I'd bring an I Got Next perspective to the table. This is the NFL season recap focused on other factors: Business, Culture, & Scandals.
NFL Season Recap
The NFL's Bug Rules were Buggin
We covered this substantially on I Got Next throughout the entire season. The NFL's rules were different based on players' "vacation" history. The rules were always stupid, always biased, & always unproductive. Unfortunately, that only became a relatively mainstream thought because of the NFL's Covid outbreaks. In an article about the NBA's outbreak, I also mentioned the NFL's situation.
You can read the article here for context.
94% of NFL players took "vacations" this year & they all got sick. The things that come with traveling, you know? Despite the rate being higher than any of us initially expected, games had to be postponed, stars missed games, & the rules were even changed at a point because the NFL needed their players on the field in order to make money.
We been told ya'll the rules were stupid & wouldn't work or help much at all, if any. What took the NFL so long to realize? Don't forget, this wouldn't be the first time the NFL might have been wrong about the medicine they give to their athletes.
I'm not going to detail the rules & misinformation used to form these rules because we've already dedicated multiple episodes to it. Watch them now so you can use your current-time perspective to understand how asinine they were to begin with. We break it all down rule by rule.
The Washington Football Team
I might have to edit this in a few weeks because it seems the Football Team that plays in America's capitol will finally be choosing a real name soon. But, that's not what made the organization a big story this year. The big story was the scandal. At least 15 women who were formerly employed by the organization reported sexual or verbal harassment while working there. This investigation began in 2020 but the NFL concluded it during this past offseason & fined the team $10 million. During the season, the scandal resurfaced with a new party involved.
Jon Gruden & the Las Vegas Raiders
The Raiders hired Gruden on January 6, 2018. They gave him a 10 year, $100 million contract. It wasn't pretty from the start. In his first season, they traded away Khalil Mack & Amari Cooper, & fired their GM before hiring Mike Mayock to perform the role. In his first offseason, the team traded for Antonio Brown. We know how that went.
2021 looked promising for Gruden & the Raiders as the team got off to a 3-0 start. Then, Chucky got unlucky.
During the Washington organization investigation, Gruden's e-mails came up. The NFL sat on them for months, but during week 5 they surfaced. Initially, an e-mail from 2011 in which he allegedly made racist remarks about the NFLPA director DeMaurice Smith was leaked. 3 days later, it was reported that more Gruden e-mails contained homophobic & sexist insults & pictures of the Football Team cheerleaders. An hour later, Gruden resigned.
As per usual, we covered this on I Got Next. If you're not subscribed, you're missing out on the biggest stories in the sports world brought to you by perspectives you won't hear on TV.
Urben Meyer & the Jacksonville Jaguars
Nobody expected the Jaguars to be amazing this year. Urban Meyer & Trevor Lawrence weren't going to turn that franchise around in a year. It turned out the duo wouldn't even spend a full year together. The man seemed like he was doing everything he could to get fired.
Meyer was hired on January 14th, 2021. Within a month, he hired an assistant coach from Iowa University who had been accused of racism by at least 13 former Iowa players. In July, the Jaguars were fined $200,000 & Meyer was fined $100,000 because of breaking practice rules of the NFL CBA (Collective Bargaining Agreement). During Week 1 of the NFL season, reports came out that Urban Meyer had somehow already begun to lose the locker room. He was rubbing people the wrong way at every level (players, staff, management). There were rumors about him leaving & taking the USC job before he even coached two games.
During week 5, the infamous video of Meyer in a bar went viral. We talked about this on I Got Next.
Urban Meyer Gets Caught- I Got Next
In December, he went full "get yourself fired" mode. He reportedly addressed the team saying "I'm a winner" & referring to his assistant coaches as losers. A few days later, he showed that he had essentially checked out already.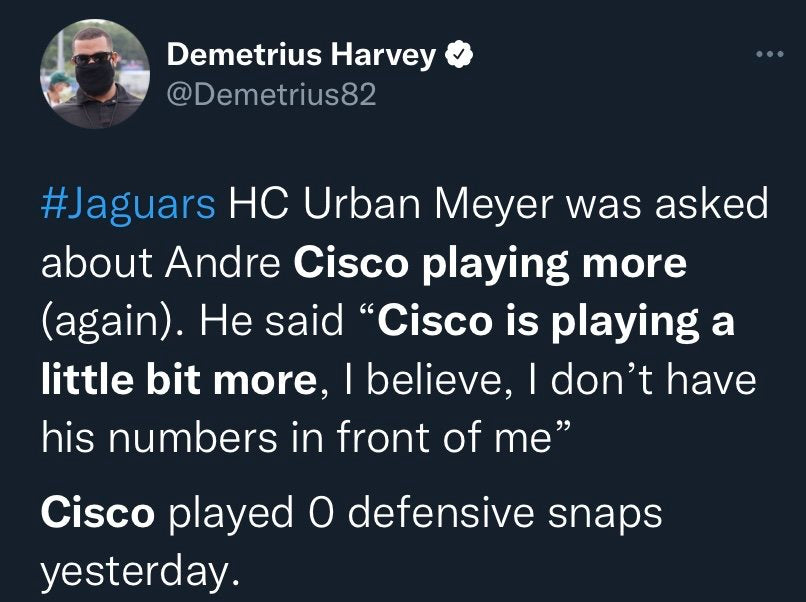 2 days after that, on December 15th, reports came out that Urban Meyer had kicked a kicker, Josh Lambo, while he was stretching earlier in the season. On December 16th, the Jaguars fired Urban Meyer.
Aaron Rodgers is a Pure Blood
We found out Aaron Rodgers is a pure blood after carefully dissecting his preseason comments. Rodgers told the media he's immunized & they never second guessed it until he got the bug. When the media figured it out they attacked Rodgers from every angle. The machine was turned against him. He didn't back down. Instead, he called out a ton of misinformation on a podcast, which infuriated the people hating on him for making his own decision.
Only the commentary of Chad, Jonesy & Ant will do this story justice. You have to watch their special edition of I Got Next if you haven't already.
OBJ & Baker Mayfield Beef
About halfway through the season, as the Browns are 4-4, the drama between OBJ & Baker Mayfield made headlines in the sports world. OBJ was frustrated about not getting the ball in certain situations in which he was open. His father posted clips of this online as proof. Tensions were building & the Browns released OBJ. He signed with the Rams & seems to have rejuvenated his career a bit in LA. In 29 games with the Browns, OBJ scored 7 touchdowns. In his first 8 games with the Rams, OBJ already has 5 touchdowns.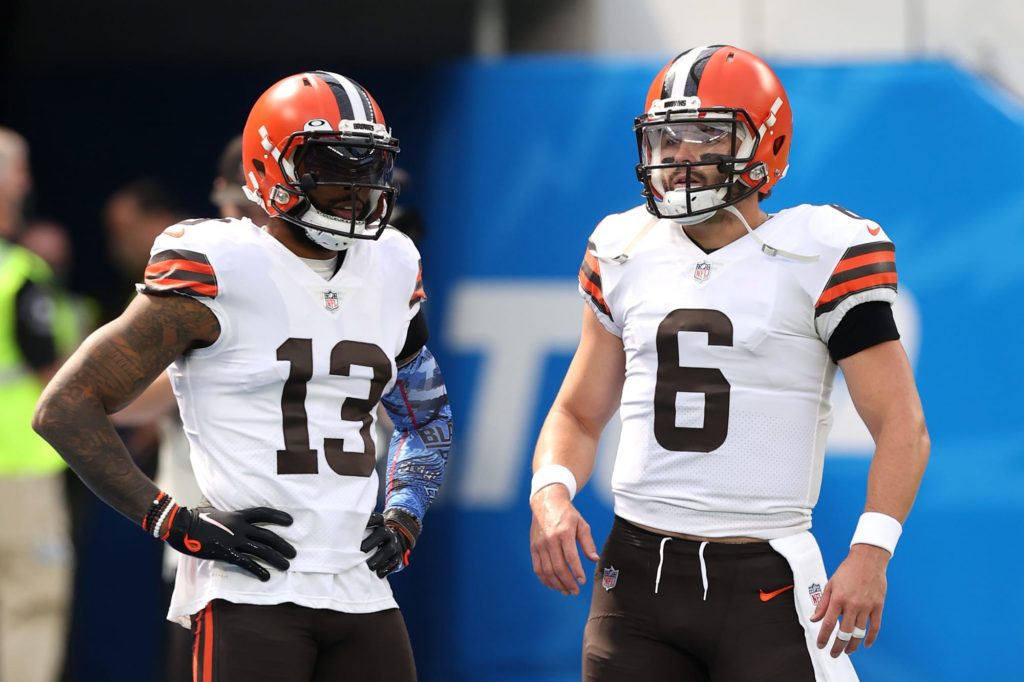 Did Antonio Brown Quit or Get Fired?
By now, you've all seen the video of AB running off the field at MetLife Stadium in the middle of the Buccaneers' game against the Jets. Initially, it looked like AB was just doing AB things. Then, reports came out that AB was hurt & Bruce Arians wanted him to get back into the game anyways. AB claims he didn't quit, he was fired when Arians told him to get out of there after not going back into the game. Allegedly, Brown will undergo surgery on his ankle.
If Antonio Brown is right & the Bucs are in the wrong here, Arians & the team will have some explaining to do. Something tells me this story isn't quite over yet, but it was a great way to end a very sloppy NFL season.
Watch Jonesy, Ant & Hotep Jesus break this story down on I Got Next.
Are Refs Fixing Games?
There were some very questionable calls which led us to consider the conspiracy theory every sports fan has considered. Are refs fixing games?! It's definitely possible & we've seen it before. It'd be tough to describe these plays in writing, so your best bet is watching this quick episode of I Got Next. Ant, Jonesy & I discussed the possibility & motives of NFL referees fixing certain games. We also talked about new NFL rules which could potentially make it easier for a referee to fix a game.
NFL Season Recap: Business, Culture, & Scandals
As you can tell, we cover everything on I Got Next. I didn't intend for this to be a huge promotion for the show, but I realized we did in fact cover most of the important NFL stories this year. On our show, you'll get a different perspective to these stories than ESPN will give you. We each bring different trains of thought to the table in an unfiltered manner. You get exactly what we think & know, regardless of whether it's a popular narrative or not.
Subscribe to our channel & turn your post notifications on so you never miss the biggest stories in sports from the I Got Next point of view. If the NFL postseason & offseason is anything like the regular season, your best bet is to be subscribed to us & tune in every week.
About Author